So much of travel comes down to planning and waiting. Scheduling where you will go, and what you will see. Waiting for you plane to depart or the bus to arrive. Figuring out when you will be coming back or waiting for you bag to come all the way around the painfully slow baggage carousel. Why is mine always last?
But what if you could skip all of the planning and the waiting. What if you could snap your fingers and BAM you were off on an adventure. Well Jess and I found ourselves in such a situation recently when we visited the small town of Casey, Illinois.



Cruzin' Down The Highway
We were on our way back from visiting family for the weekend and in the middle of a painfully boring five-hour drive home when we came across a sign on the side of the highway that read: "Turn now for world's largest something something!" "Yeah, right" I thought to myself "No offense but I'm not particularly interest in seeing the 'World's Largest Ball of Mud,' or whatever it is you're peddling today." so I kept on driving.
A mile or so later and there it was again "Turn Now!" it insisted "World's largest rocking chair!" but again I laughed a little inside and kept driving. It wasn't until the very last sign just before the exit that it caught Jess' attention... "What did that sign say?" she asked as she shot up in the passenger seat. "I dunno. World's largest something or other." I said "That's the last exit for it anyway." I added as we were passing the exit. "We gotta see that!" she yelled as she pulled my shoulder and the steering wheel with it! Fortunately, there weren't any cars next to us as we screeched across several lanes and flew down the exit. We rolled the stop sign taking a quick left and just like that we were off on an adventure, no planning, no waiting and NO expectations of what we were about to see.
Ready Or Not Here We Go!
About a mile down the road we found ourselves rolling into the small town of Casey, Illinois. From what we could tell Casey seemed like every other small Midwestern American town we had seen. A gas station, a few closed down shops and a Subway Restaurant was about all we expected to see.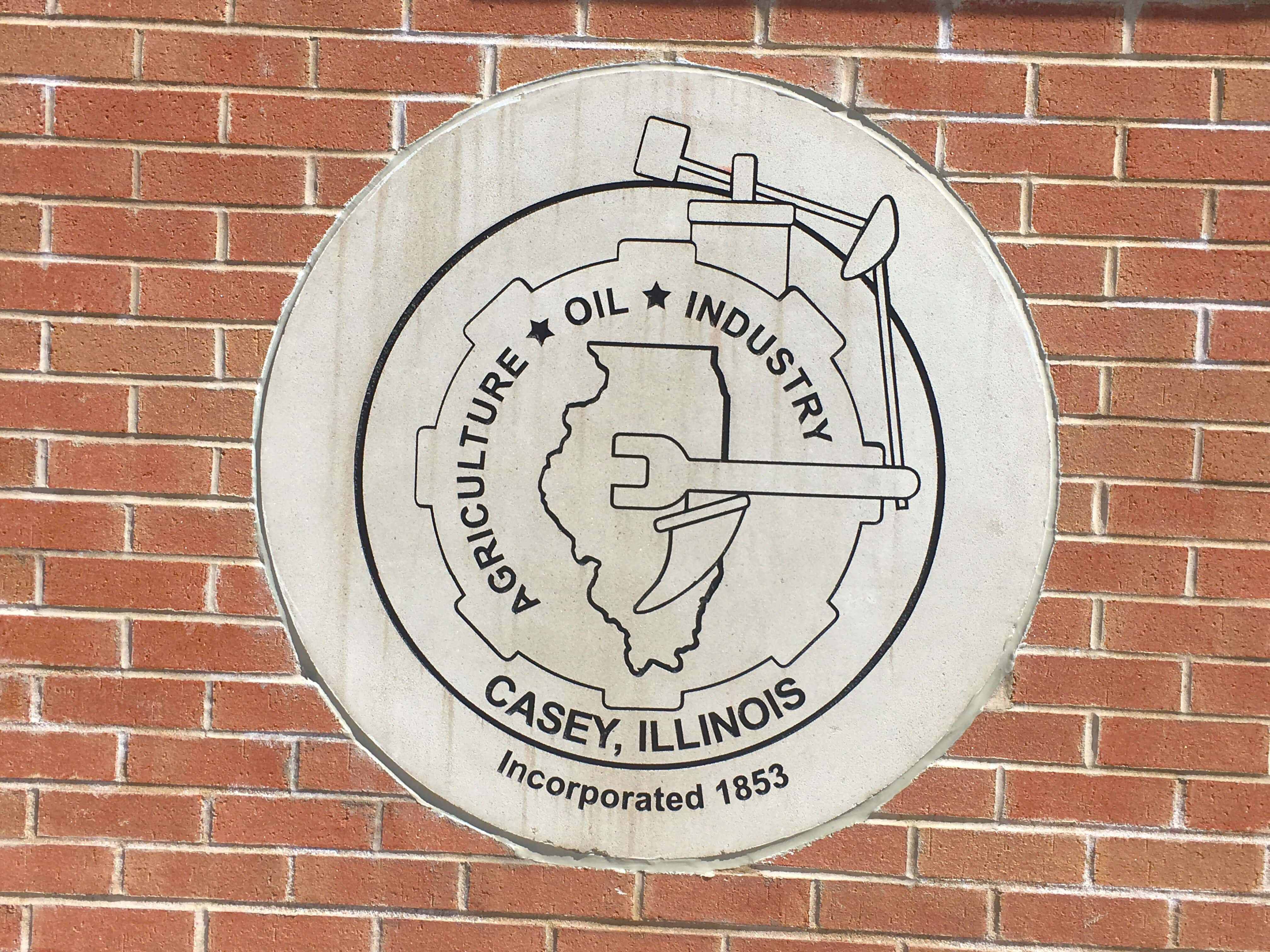 We followed the signs leading us along the road and before long there it was… the rocking chair. And they weren't lying, it was pretty big! But what caught my attention wasn't the gigantic rocking chair,  it was actually the wind chime on the other side of the street that was just as big, if not bigger than the rocking chair! "Well of course I have to check that out now that we're here." I thought, and so I moseyed on over. (Normally I would have just walked, but I didn't want to stick out in the small town, and so I figured moseying was my best option.)
What Is Happening Here?
After a quick read of the little sign in front of the wind chime I learned that both the rocking chair and the wind chime were part of an ongoing project that Casey was doing called Big Things in a Small Town and there were several other large things around town including the world's largest mailbox and golf tee.
Well this was starting to look a bit more like a mission now! We had seen the rocking chair and the wind chime already so obviously we had to see them all. And so we did! The rocking chair, the wind chime, golf tee, mailbox, wooden shoes, pitchfork, Crochet Hook and Knitting Needles.



Pro Voyager Tip: 6 of the 8 'world's largest' are within walking distance all around downtown Casey. The world's largest golf tee and pitchfork are a couple of miles down the road. Follow the signs and you'll be sure to find them!
The more we saw of Casey the more I came to appreciate what it was they were trying to do. This was more than just a thinly veiled publicity stunt by an otherwise over looked town in the middle of Illinois. They were building something together and using this opportunity to have fun and highlight parts of their town that might otherwise be overlooked. The golf tee was at the golf course, the pitch fork was at the lawn and garden store. So many people were having fun with the project!
We walked around the rest of the little town taking pictures and had a pretty good Sunday afternoon, all thanks to Jess. I must admit that being spontaneous is not exactly my strong suit, but that's just one of MANY reasons that I am so lucky to have Jess. I would have driven right by Casey and wouldn't have even thought twice about it. Where I see a "delay in travel" Jess sees an adventure waiting to happen! For more on traveling as a couple be sure to check out 5 Tips for Traveling as a Couple. 
How To Get There
From I-70 take the IL-49 exit (exit 129) towards Casey, Illinois. Merge onto IL-49 towards Casey for 1.5 miles, then turn left onto E. Main St. In 0.8 miles, you will see the world's largest rocking chair on your left.
So often we get caught up in our preconceived ideas of what travel is, or what we think travel is supposed to be. We think that we can't travel because we don't have the time or money to go see exciting destinations. Because of this we often find ourselves overlooking everyday adventures in our own country, or even our own backyard! For more information about Casey be sure to check out their website here.
Have you discovered something wonderful closer than you ever expected? Leave a comment below and tell us about it!