Slot canyons in Arizona are some of the prettiest canyons in the world. If you are looking for the best slot canyons in Arizona, you've come to the right place.
In this article, we're going to cover 14 of the best slot canyons in Arizona that you can get to by taking a guided tour or by hiking to.
There are quite a few slot canyons that are only accessible by taking an overnight river rafting trip and we have not included any of those slot canyons in this article.
This post may contain affiliate links. For more information read our disclaimer here.
But First, What is a Slot Canyon?
Slot canyons start as a simple crack in the rocky earth, and over millions of years and with lots of water, wind, and erosion they form into what we now call a slot canyon.
They are essentially narrow canyons deep in the earth that have wavy walls and snake around whichever way the water ended up flowing. No two slot canyons are the same, and each has its own unique features, colors, texture, and shape.
Are there any Slot Canyons open in Arizona?
This article only includes slot canyons that are open and accessible. Some of these Arizona slot canyons require a permit to access due to their location being on private (usually Native American) land.
Other slot canyons are only accessible by tour. We will include where to get permits as well as which tours to go on if you'd like to see the slot canyon.
Slot Canyons in Arizona Near Page Arizona
Upper and Lower Antelope Canyon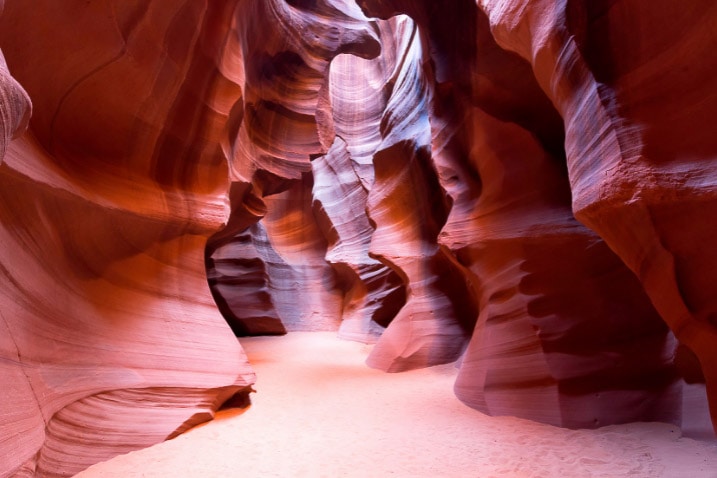 Location: Page, Arizona
Of course, this list has to include the very famous Upper and Lower Antelope Canyon! These canyons are one of the prettiest slot canyons in Arizona, if not in the whole world. Upper Antelope Canyon is where you can see the iconic light beams that you've probably seen in lots of photos. Lower Antelope Canyon doesn't have any light beams, but is just as beautiful and can be more adventurous.
These canyons are only accessible through a tour as they are located on Navajo land and are a very sacred area to the Navajo people. Trying to decide between visiting Upper or Lower Antelope Canyon? Check out our detailed guide about the differences between the canyons and the pros and cons of visiting one over the other.
Antelope Canyon Tours
Upper Antelope Canyon
This Upper Antelope Canyon tour is a great way to see the upper canyon, especially if other tour operators are sold out. Tickets book up really far in advance, so make sure you make your reservations early!

Lower Antelope Canyon
The Navajo guides on this Lower Antelope Canyon tour are super knowledgeable and this is a great way to see the canyon while also learning the history of the canyon and learning about Navajo culture.
Canyon X: The Quieter Slot Canyon in Arizona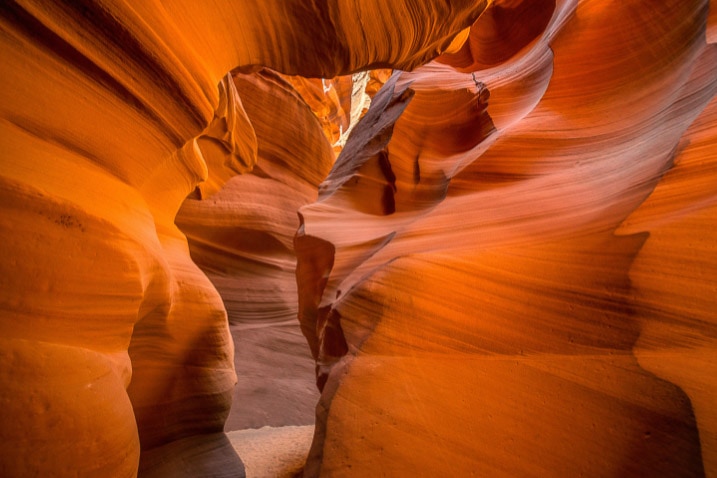 Location: Page, Arizona
Canyon X is very similar to Upper and Lower Antelope Canyon and is actually part of the same canyon but just an upper segment. Because it is part of the same canyon, you can see the same beauty without the crowds!
The entrance to Canyon X is so unseemly; it's just a small crack in a large rock. But once you walk inside the canyon you are transported to a different world. The path zig-zags around the ever-changing color of the walls depending on the time of day. And don't forget to look up! Some of the prettiest formations this canyon has are above your head, including the 'X' it's named after.
As of 2021, a boardwalk has been installed that helps visitors easily access the entrance to Canyon X. Before you would have to descend a 150-foot fissure in the sand to get to the entrance and then hike back out. Now it's much easier to take the stairs up and down to the entrance of the canyon.
You cannot visit Canyon X without a guided tour. Check out which tour we recommend below for the best experience of visiting Canyon X.
Of all the slot canyons in Arizona, Canyon X is definitely one of our favorites!
Canyon X Tours
This tour of Canyon X is an awesome tour if you're looking to experience a beautiful slot canyon without all the crowds. This is also a great option for a tour of an incredible slot canyon in Arizona if both Upper & Lower Antelope Canyon are sold out for your dates. 
Secret Antelope Canyon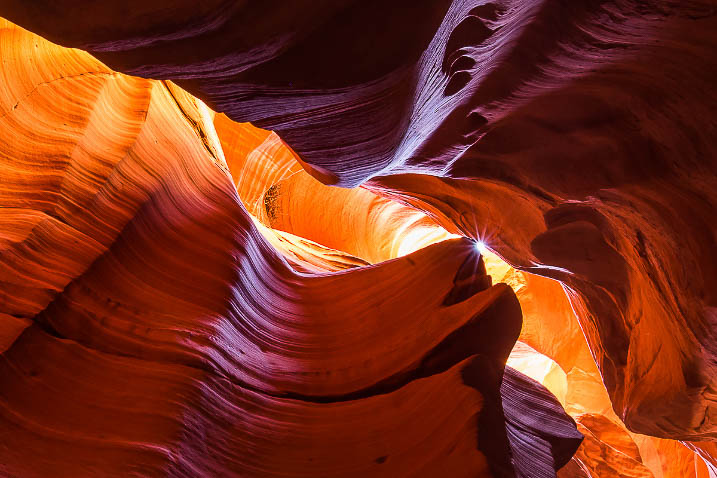 Location: Page, Arizona
Another awesome alternative to Antelope Canyon, Secret Antelope Canyon is very similar, minus the intense crowds. Secret Antelope Canyon is also known as Horseshoe Bend Canyon due to its proximity to the famous Horseshoe Bend overlook.
Secret Antelope Canyon is actually a section of the Waterholes Canyon (more on this canyon below) and has the same swirling, beautifully lit-up walls.
The canyon entrance starts out rather wide and the walls are shorter than other slot canyons. As you wind your way around the rock formations, the canyon narrows, and the walls gradually rise. Soon you are in a beautiful slot canyon with waves and formations changing as you continue on.
This is another canyon that you need a guide to visit since it is also on Navajo land. Keep reading for some slot canyons you can explore on your own.
Secret Antelope Canyon Tour
This tour of Secret Antelope Canyon also includes a trip to a private overlook of Horseshoe Bend. The tour to Secret Antelope Canyon is a fun adventure and includes an off-road, 8-mile ride in an open 4x4 jeep to reach the entrance to the canyon. You then get time to spend admiring Horseshoe Bend without the crowds!
Waterholes Canyon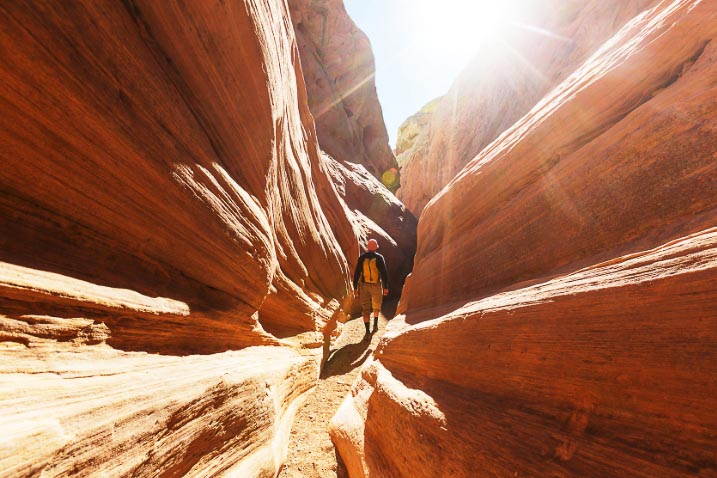 Location: Page, Arizona
Waterholes Canyon is another great slot canyon in Arizona that you should definitely check out. It's located in the same area as the other slot canyons listed above but is lesser known so you will be able to experience the wonders of this canyon without the crazy crowds.
This canyon has two sections and each is unique and exciting to explore. The first section is rather open and wide, making it seem like a normal canyon rather than a slot canyon. After some time of walking through the first section, you'll come to a sandy wash. After walking through the wash for a bit, you'll then enter another section of the canyon, and this is where the canyon starts to narrow.
Soon you'll come to a 16-foot ladder that descends down into the narrowest part of the slot canyon. Make sure you have some great hiking boots for this section, as the canyon can be so narrow that you are walking on the sides of the wall in some places.
The total walking to see this slot canyon is 2.5 miles and it takes around 1.5 hours to do the whole thing. Once you've walked all the way through the canyon you will walk up the rock to get back to the van that escorted you there.
Waterholes Canyon used to be accessible with just a hiking permit but in 2018 the Navajo changed the law and now the canyon is only accessible by guided tour.
Waterholes Canyon Tour
This tour of Waterholes Canyon is the only tour that goes to this canyon. You can choose between a general hiking tour or a photography tour. On the photography tour, you can bring a tripod and have more opportunities to photograph the beautiful canyon. 
Rattlesnake Canyon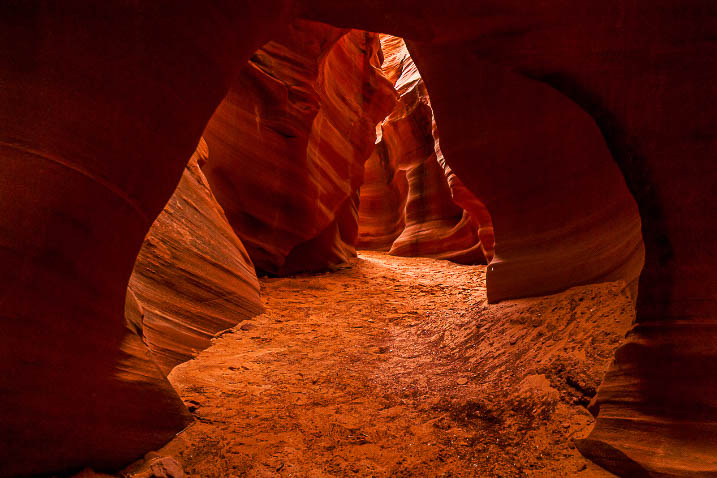 Location: Page, Arizona
Of the many slot canyons near Page AZ, Rattlesnake Canyon is a great canyon to visit for anyone looking for a bit of a thrill. But don't worry, the canyon doesn't get its name from there being rattlesnakes everywhere. It's actually named Rattlesnack canyon because of the snake-like pattern carved in the walls from the river that occasionally runs through this canyon.
The trilling part of this canyon comes in with the tight squeezes and ladders you will have to climb to navigate through the canyon.
Rattlesnake Canyon is only a short walk down the same wash that you take to get to Upper Antelope Canyon, so it's often included in a dual tour or triple tour including Owl Canyon which is nearby as well.
Rattlesnake Canyon Tour
This tour to Rattlesnake Canyon allows about 60 minutes inside the canyon. The tour takes you at the best time of the day to see the canyon walls illuminated by the sun. Keep in mind that the colors will change throughout the seasons though!
Owl Canyon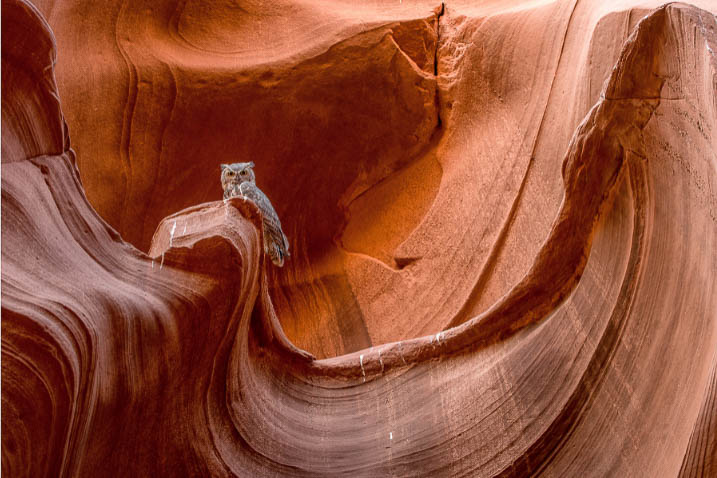 Location: Page, Arizona
Owl Canyon might be one of the more unique slot canyons in Page Arizona due to the fact that there are resident Great Horned Owls that live in the canyon!
If you are looking for that traditional slot canyon experience, Owl Canyon might not be the best canyon to choose. The canyon doesn't have quite the same narrow passageways as the other slot canyons Page has to offer. It is still fun to wind your way around the wide walls and see a different kind of canyon and of course say hi to the residents that call this canyon home.
Owl Canyon Tours
To see Owl Canyon, you must go on a combo tour that also goes to Upper Antelope Canyon and Rattlesnake Canyon. This is a perfect tour for people that want to experience 3 different types of slot canyons and get a feel for them all.
Cardiac Canyon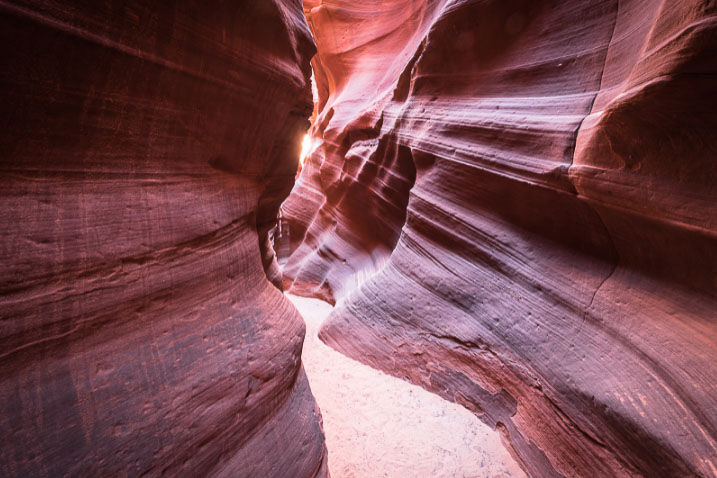 Location: Page, Arizona
Of all the slot canyons in Arizona, Cardiac Canyon should be high on your list. This slot canyon is different than the others on this list and we'll tell you why.
First, it was only discovered in 2018, and since then there haven't been many people visiting it. Also, it is 2.5 miles long, making it one of the longest slot canyons on this list. Now you're probably wondering, why is it called Cardiac Canyon?
Cardiac Canyon gets its name from the 90-foot steep, sandy hill you have to descend to get down into it. And of course, what goes down must go up, so you'll have to climb your way back out. Since you can now visit Cardiac Canyon on a guided tour, there is a ladder in place with a rope that helps you climb down and out.
This canyon is perfect for people looking for more of an adventure- you'll have to climb up and over rocks, up and down ladders, and there are multiple passageways to explore! Of course, the canyon itself is beautiful and looks just as pretty as Antelope Canyon with sweeping views, wavy walls, and gorgeous colors.
All of these things just might make Cardiac Canyon might just be one of the best slot canyons in Arizona.
Cardiac Canyon Tours
Tours to Cardiac Canyon can only be booked through Taadidin Tours. They will take you on an epic 6-hour tour through the 2.5-mile canyon. They also have a maximum of 6 people on their tours to Cardiac Canyon so you will be guaranteed a small group! 
Cathedral Canyon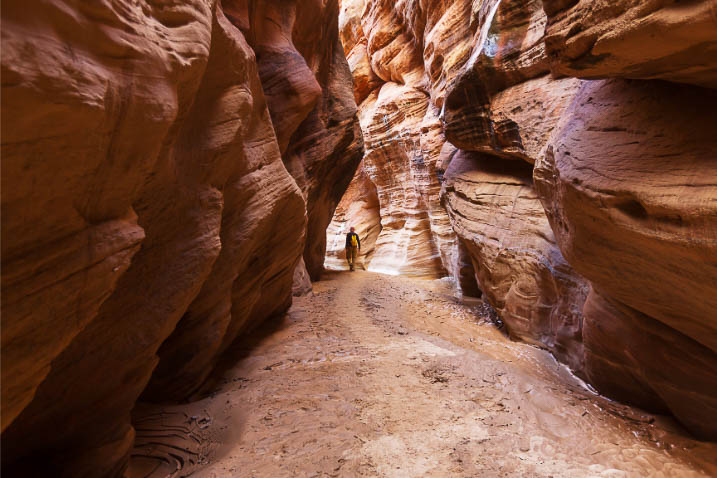 Location: Page, Arizona
Cathedral Canyon is another great option for slot canyons in Page, Arizona, and is a great choice when looking for alternatives to Antelope Canyon. On the hike to Cathedral Canyon, you will see some really neat rock formations along the way.
The entrance to the Cathedral slot canyon is super narrow, and you actually have to place both your hands and feet on the sides of the wall to wiggle your way through. Once inside, you will have to descend a ladder to get to the actual canyon. Also, watch your head! There are some boulders that you'll have to duck under that got sandwiched in between the narrow walls of the canyon.
The walls through the canyon aren't quite as high as other slot canyons, but once you reach the end you'll see why this canyon got its name.
After hiking through the slot canyon, you'll come to the end of the canyon and what is called the Cathedral room, a majestic room towering 100 feet overhead.
Some guides will play their traditional Native American flute once reaching this room so you can hear the beautiful acoustics. If you're spiritual, this is a very spiritual experience and one to not forget!
Cathedral Canyon Tours
Antelope Slot Canyon Tours by Chief Tsosie is the only tour company that offers tours to Cathedral Canyon. This tour of Cathedral Canyon starts at their office in downtown Page and will transport you to the start of the canyon. Your guide will teach you about various animal life in the area as well as native plants and their medicinal properties once used by the Native Americans.
Where to Stay Near Page, Arizona
If you are going to be exploring the slot canyons around this area we would suggest staying in Page, Arizona. Page is a great little town and there is so much more to discover in this area besides the numerous slot canyons.
Here are some other great choices for accommodation that are close to the Page slot canyons:
This cute little rental house is in a great central location for your slot canyon adventures. It has everything you need to cook your own meals and is super comfortable.

Wingate by Wyndham has the highest-rated reviews of any hotel in the Page area because it's super clean, has awesome views, and has a great breakfast!
The Red Rock Motel is a great budget pick for anyone visiting the slot canyons around Page. It has a kitchen for cooking your own meals, and the owners of this motel are the sweetest people. Every room also has its own little patio area. For the price, you really can't beat this place!
Slot Canyons in Arizona Near Sedona
If you're looking for some other slot canyons beside the slot canyons Page Arizona has to offer, we've put together some information about slot canyons near Sedona as well. These slot canyons can be visited on your own, unlike the slot canyons listed above.
Pumphouse Wash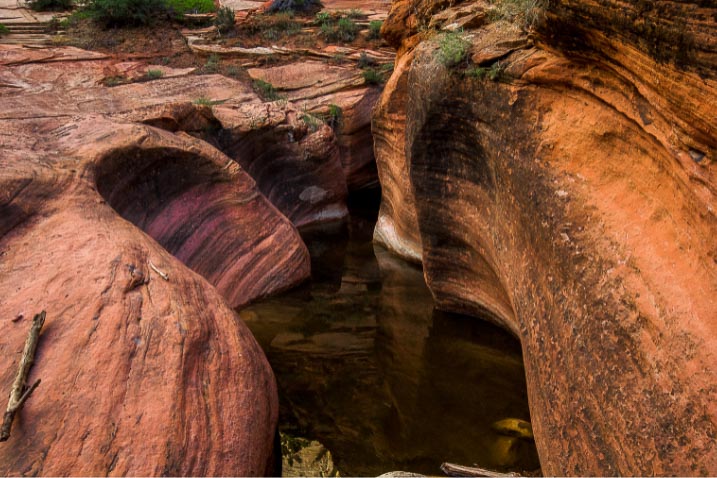 Location: Sedona, Arizona
Pumphouse Wash is more of a gorge and less of a slot canyon, but still has steep vertical walls that enclose you as a slot canyon does. Pumphouse Wash is a hike through a gorgeous gorge with deep pools, small waterfalls, and flooded channels that you have to navigate through.
There are two sections to Pumphouse Wash, the upper section and the lower section. The lower section is more intense that has drop-offs that require ropes to navigate. If you're looking for something less challenging, check out the upper section.
The parking area for Pumphouse Wash is located 13 miles north of Sedona along the west side of Highway 89A. You must display a Red Rocks Pass if you plan to park in this area.
There are no trailheads marking the way to Pumphouse Wash. You will need to head down into the wash from the parking area and from the main canyon head South to get to the upper section of the gorge.
Safety Tip: Make sure that you never hike a slot canyon when there is rain in the forecast. Also, because Pumphouse Wash requires a lot of technical hiking over boulders and through water, we would suggest bringing a hiking first aid kit along with you.
Slot Canyons in Arizona Near The Grand Canyon
Deer Creek Narrows
Location: Inside the Grand Canyon
Deer Creek Narrows is the most remote and hardest to get to slot canyon on this list. Located deep inside the Grand Canyon, Deer Creek Narrows is either accessible by hiking 20 miles with 10,000 feet elevation gain or by an overnight float trip along the Colorado River.
Getting to the canyon also requires a permit and 4 different rappels with one being 190 feet down the side of the magnificent Deer Creek Falls. The slot canyon itself is only 0.4 miles long but is reported as one of the prettiest slot canyons in Arizona.
Getting to this canyon isn't for the faint of heart and you need to be very experienced as well as prepared. But if you do decide to try and visit this canyon, you will definitely not regret it!