Antelope Canyon X: Tips for Visiting in 2023
Antelope Canyon X is a stunningly beautiful slot canyon located near Page, Arizona, in the heart of the Navajo Nation.
Similar to the popular Upper Antelope and Lower Antelope Canyons, Canyon X is a red rock slot canyon that was formed over thousands of years by the erosion of water and wind.
We've visited Antelope Canyon a few times now and have really enjoyed checking out different sections of the canyon each time we visit.
In this article, we'll answer all your questions about Antelope Canyon X, tips on visiting, and how to choose the best Antelope Canyon X tour.
What To Expect Visiting Antelope Canyon X
During the drive to Antelope Canyon X, you will pass both the Upper and Lower Antelope Canyon. When you arrive, there's a parking area on the right-hand side of the road, it's useful to know that parking is suitable for buses and large RVs.
After parking, you'll need to check in at the front office. If you've not already purchased them in advance, this is the same building where you can buy Antelope Canyon X tickets. There's also lots of useful information in the office too as well as staff on hand to ask any questions.
From the office, you'll take the short drive in the Canyon X shuttle to the start of the mouth of the Antelope Canyon X hike. The beginning of the hike is the toughest, as there is a fairly steep hill to walk down for about 35 yards. In recent years stairs have been built to help visitors down the hill. If you need to take a break along the way, then there are several benches to stop and rest.
At the bottom of the slope, you'll see a T section. This is where you need to wait as the rest of the group arrives and where the tour guide will meet you. The guide will give you an introduction to Canyon X, go over the rules and explain what will happen on the hike.
The first section of the trail goes off on a slight tangent to see the very start of the Antelope Slot Canyon and where the water comes in. You'll then retrace your steps and walk through a sandy wash to visit the second slot canyon where you'll find Canyon X.
If you ever wondered how Canyon X got its name, it's here. As you stand at the entrance, look up. You'll see the rocks forming an X shape, this marks the official start of Slot Canyon X. This is a great place to stand and get some great Antelope Canyon X photos.
The rest of your tour will continue into the slot canyon. Your guide will stop regularly to point out various rock formations and give history and insight into the importance of this canyon and other slot canyons in the area.
To finish the trail, you'll head back out the same way you entered. Remember that steep climb down at the start? You'll have to climb back up. You can take regular breaks if you need, no one is rushing you. At the top, wait at the shuttle stop to take you back to the main office.
✅ Check Prices & Book Your Canyon X Tour Here!
Is Antelope Canyon X Part Of Antelope Canyon?
You might be asking yourself what is Antelope Canyon X and is it part of Antelope Canyon? The answer is yes, Canyon X is a part of the same slot canyon that makes up all of Antelope Canyon. Canyon X is just a lesser visited section of the Antelope Canyon.
One of the main differences when it comes to Canyon X vs Antelope Canyon is that parts of Antelope Canyon X are much deeper, and can be more than 125 feet deep in some sections.
Antelope Canyon X Vs Upper Antelope Canyon
If you're still wondering about Canyon X vs Upper Antelope, and which one to visit then here are the main differences. For starters, the price of visiting Canyon X is a lot cheaper compared to Upper Antelope Canyon.
Also, Antelope Canyon X isn't as popular as Upper Antelope, so it can be viewed at a more relaxed pace as there isn't the need to rush a large volume of people through.
Upper Antelope Canyon features much smoother walls than Antelope Canyon X, and is only about 50 feet deep, whereas Canyon X is over 125 feet deep.
Because of the depth, when it comes to Antelope Canyon X vs Upper Antelope Canyon, the latter has more light. This might be worth considering if you're taking photos with a camera that doesn't have a great light sensitivity level and portraits without using a tripod.
If you're eager to see or photograph those stunning light beams, then we definitely recommend Upper Antelope Canyon.
The best time to visit Antelope Canyon to see the light beams is between mid-March and the start of October. Because of how high the walls are on Canyon X, you won't get to see any light beams at any time of the year.
Antelope Canyon X Vs Lower Antelope Canyon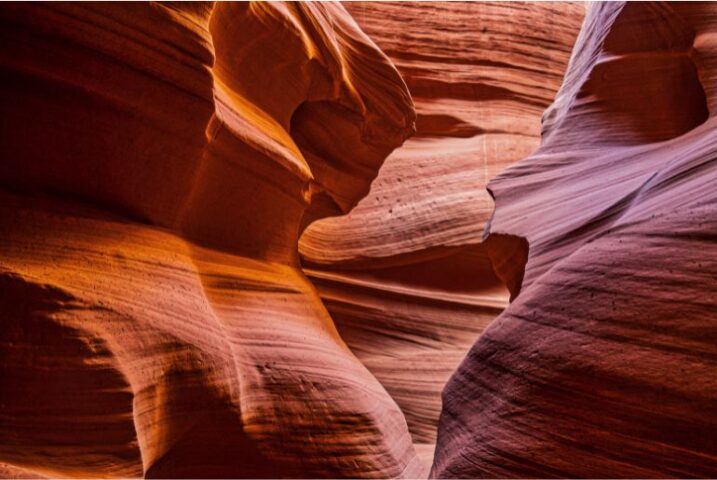 Similarly, when you compare Lower Antelope Canyon vs Antelope Canyon X, many things are similar to Upper Antelope.
The price for visiting Canyon X is a lot cheaper compared to Lower Antelope Canyon. Also, Canyon X is less popular than Lower Antelope, which means you're able to see it at a more relaxed pace unlike Upper or Lower Antelope Canyon, where the guides are trying to rush large volumes of people through.
Lower Antelope Canyon has a depth of around 75 feet. Whereas Canyon X is 125 feet deep in parts.
Although there are still differences between choosing Canyon X vs Lower Antelope, they aren't as apparent as with Upper Antelope. This is mainly because Lower Antelope doesn't get as many light beams as Upper Antelope Canyon.
Chances of seeing the light beams at Lower Antelope Canyon aren't as likely, it's still possible during mid-March up until the start of October, whereas in Canyon X, there's no chance at all.
Something else to take note of when choosing between the two is that Lower Antelope Canyon has lots of ladders to navigate throughout the tour. If you have mobility limitations, this may be a deciding factor in which canyon you visit.
Other Names For Antelope Canyon X
Antelope Canyon is located on Navajo land and the name the Navajo give to Upper Antelope Canyon is Tsé bighánílíní. This translates to 'the place where water runs through the rocks'. The Navajo name for Lower Antelope Canyon is Hasdestwazi and translates to 'spiral rock arches'.
Although the proper name for the canyon is Antelope Canyon X you will see it referred to as a whole combination of names, these include:
Antelope X
Canyon X, AZ or Canyon X, Arizona
X Antelope Canyon
Canyon X Antelope Canyon
Slot Canyon X
Canyon X Page or Canyon X Page, AZ
Canyon X Antelope
Antelope Canyon X Tours
The lesser-visited Antelope Canyon X is a great option if you're looking to escape the crowds, however, you can only visit Canyon X as part of a guided tour. If you're planning to do the Antelope Canyon X tour, then we recommend going with this tour.
There are two different tours you can do, one is purely based on hiking the Antelope Canyon X trail, while the other focuses on taking the best photographs of the red rocks.
✅ Check Prices & Book Your Canyon X Tour Here!
Antelope Canyon X Hiking Tours
Here's what to expect when you book one of the X Canyon tours. If you opt for the hiking tour, then it lasts for around 1 hour and 30 minutes. This is a fully guided tour with a Navajo guide and you will be accompanied by them throughout the tour.
The hiking tour of Canyon X starts at the tour office. You'll find the tour office just off Highway 98 at milepost 308. There's ample parking for vans and RVs.
Tour groups are kept small, and unlike Upper and Lower Canyon tours, the Canyon X tour is much more relaxed. If you are worried about mobility issues, then there are plenty of benches along the toughest part of the route, which is the downhill trail to the start of the Canyon X trail.
During the tour, you'll get to see 2 slot canyons. The first is the start of Antelope Canyon and the second is where you'll see the iconic X shape of the rock formation. Your Navajo guide will make plenty of stops along the way to share their knowledge of the land and the importance of the area in their culture.
Check the tour departure time on your ticket, and plan to arrive at the main tourist office at least 30 minutes before the tour starts. This will allow enough time to complete the required waiver and check in.
✅ Check Prices & Book Your Canyon X Tour Here!
Antelope Canyon X Photography Tours
If you're a keen photographer and looking to capture beautiful Antelope Canyon X photos, then the 3-hour Canyon X Photo tour might be the better option for you.
Like with the regular walking tour, your tour starts at the main tourist office. Arrive early to allow enough time to complete the required waiver and check in.
This tour is geared toward those with experience in photography, although it doesn't matter if you're a hobbyist photographer or a professional. It's not a photography lesson, so you will need to understand how your camera works.
For the duration of the 3 hours, your guide will take you through Canyon X allowing you to spend more time in the canyon to capture your images compared to the regular walking tour. Unlike the walking tour, the photography tour also permits you to use a tripod.
Note: Videography is not allowed on this tour unless you've obtained a permit from the Lake Powell Tribal Parks and Recreation Office.
✅ Check Prices & Book Your Canyon X Tour Here!
Is Antelope Canyon X Worth It?
Antelope Canyon X is the lesser-known section of Antelope Canyon and often it's overshadowed by the much more popular sections of Upper Antelope and Lower Antelope. So you might be wondering, is Canyon X as good as Antelope Canyon Upper and Lower sections?
Despite it not being as well known, Antelope Canyon X is definitely worth seeing. Even though the walls aren't as smooth as the other canyons, it's still an absolutely gorgeous slot canyon.
Because it's not so well known, it's not as busy as the Upper and Lower Antelope Canyon, which makes for a much more relaxed visit, and less frustration when it comes to trying to get beautiful photographs without other people in them.
How To Get To Antelope Canyon X
One of the easiest ways to get to Canyon X is by flying. There are several options for airports near Antelope Canyon to choose from ranging from regional to international airports.
The closest airport to Antelope Canyon is Page (PGA), which is located just over 7 miles away, however, the best international airport is Las Vegas (LAS).
Many visitors visit Antelope Canyon from Las Vegas, if you're planning a road trip, then the journey from Las Vegas to Antelope Canyon X is 284 miles.
It will take around 4 hours to complete the journey if you're going directly there, however, it's worthwhile stopping off at all the amazing sights along the way.
If you're driving to Antelope Canyon as part of a road trip then it's a good idea to head to Page and base yourself there. Canyon X is located about 12 miles outside of Page, to drive it takes around 14 minutes.
Many people visit Antelope Canyon X from Sedona. This journey takes around 3 hours and is a distance of around 167 miles. If you're visiting other major attractions in the area such as the Grand Canyon, the distance is around 141 miles and will take about 2 hours and 30 minutes to get to Canyon X.
Best Time To Visit Antelope Canyon X
You can visit Antelope Canyon X all year round. However, the best time to plan your visit is around mid-day.
Because of the depth of Canyon X, the best time to visit is when the sunlight is directly overhead. Arriving when the light is best will ensure you see the canyon when the rock looks vibrant in the sun.
Even in the summer, the canyon floor sees minimal light so it can feel refreshingly cool in the shade of the slot canyon. During the winter months it can feel very cold in the canyon so take a coat with you.
Spring and Fall are great times to visit as well because there are some really awesome camping spots near Canyon X.
What To Bring For Your Antelope Canyon X Tour
When you do your Antelope X tour, you can only bring hand-held items only. Backpacks or bags are not allowed.
We recommend bringing the following:
Camera/Cell phone
Water bottle
Jacket in the colder months
Visitors are required to wear a mask on the Navajo Nation
There are also items that you are not allowed to bring on your Antelope Canyon X tour. You'll be asked to leave these in your car, or at the main ticket office.
Drones and video recording equipment
Pets
Strollers or metal-framed baby carriers
Cigarettes or cigars (there is a no-smoking policy on this trail)
Bags of any size, including backpacks, fanny packs, and camera bags
Tripods/monopods or selfie sticks (unless you're doing the photography tour)
Where To Stay Near Antelope Canyon
There are some great places to stay near Antelope Canyon suitable for every style of traveler. To get the most out of your time here, we suggest staying at least one night in the area.
Here are three options we recommend:
The Bears Den B&B is located 10 miles from Antelope Canyon. There's free parking on site and rooms have access to free WiFi as well as a hot tub. Rooms come with a patio and are equipped with air conditioning and flat-screen television. A daily breakfast is served and offers American, vegetarian, and gluten-free options.
Shash Dine' EcoRetreat is located in Page, 32 km from Antelope Canyon. There's free on-site parking. This eco retreat has an on-site garden and barbecue area for guests to use. They also serve daily breakfast with vegetarian, vegan, or gluten-free options.
Under Canvas Lake Powell-Grand Staircase is located 43km from Antelope Canyon. There is free parking onsite. This static glamping accommodation features luxury tents, each complete with a private bathroom with a shower and free toiletries. There is also a sun terrace that guests can use. An à la carte menu serves an American or vegetarian breakfast each morning.
Tips For Visiting Antelope Canyon X
To help you get the most out of your Antelope X Canyon visit, here are our recommendations and tips.
Take note of the time zones – Because Canyon X is so close to the Arizona border, it's a good idea to pay attention to the time zones. Arizona does not follow daylight saving time hours. If you bought your ticket in advance (which we highly recommend doing), you'll also receive a confirmation text. Make sure your clock is set to the correct time zone to avoid missing your allocated time.
Book your ticket in advance – As soon as you know the date you'll be visiting the slot canyon, book your ticket. Spaces are limited, and they do sell out, even during off-peak, so it's important to book ahead of time. This will also ensure you can book your ticket for the best time of the day, which is around mid-day when the sun is at its highest point.
Restrooms – It's worth taking note that there are no restrooms along the Canyon X trail. So make sure you go before you set off.
Bring plenty of water – Take plenty of water with you, particularly if it's hot. Because of the location of the canyon in the desert, the air can be incredibly dry, so even on cooler days you will feel dehydrated. It's a good idea to carry a little bit extra than what you think you'd usually need, especially if you're not used to the dry climate.
Wear sturdy shoes – The ground is dusty and sandy, plus you'll be following a dirt trail. The ground temperature can get warm too and with the chances of small rocks underfoot, you don't want to be wearing just a pair of tennis shoes that you'll feel everything through. Choose shoes that have a decent amount of support and a thick sole with plenty of treads.
Navajo Permit Fee – Regardless if you're doing the Upper, Lower, a Canyon X tour, or any of the other parts of Antelope Canyon, you will have to pay the Navajo Permit Fee to hike these trails. The fee costs $8 per person and needs to be paid in cash to the tour operator when you arrive. Make sure you have enough cash on you to cover every person in your group over the age of 8.
Other Things To Do Near Antelope Canyon X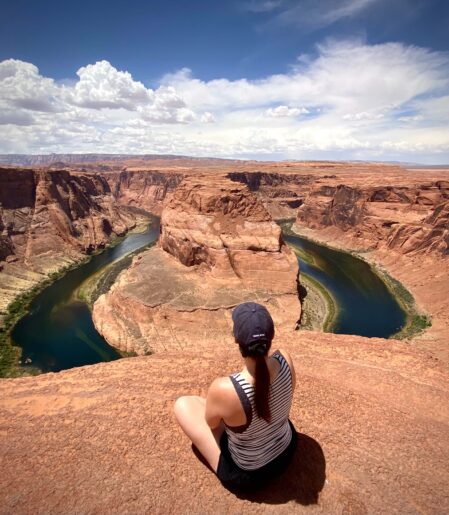 There are plenty of other amazing things to do near Antelope Canyon X.
Here are our top suggestions for other places to visit:
Page – This is the closest town to Antelope Canyon and is a great place to stay if you're road-tripping from Las Vegas or other cities nearby. The town has plenty of amenities, so you can stock up on supplies if you're planning any onward travel or camping.
Horseshoe Bend – Second to the Antelope Canyon, this is probably one of the most iconic landmarks in the area. There are several trails near Horseshoe Bend if you want to explore the areas more.
Lake Powell – If you're a fan of water activities, then we recommend visiting Lake Powell. Not only is there an abundance of trails here but the gigantic lake is great if you want to relax on a houseboat or for a few days before onward travel.
Sedona and Grand Canyon – If you're not pushed for time, then you could tie in a visit to Sedona and the Grand Canyon into an extended road trip.
The Wave – This is one of the most beautiful rock formations in the area and is located in the Vermillion Cliffs. You'll need a permit to hike to the Wave but if you're interested in geology and photography, this is a must, another alternative if you're interested in geology is the Coral Pink Sand Dunes.
Antelope Canyon X FAQs
Here are the answers to the most asked questions we get from readers who are interested in hiking Canyon X.
What is the difference between Canyon X and Antelope Canyon?
The main difference between Canyon X and Antelope Canyon is the depth of the canyons. Parts of Canyon X are much deeper compared to Upper Antelope Canyon, reaching more than 125 feet in depth in some places.
Is Antelope Canyon X worth seeing?
Antelope Canyon X is definitely worth seeing. Compared to Upper Antelope, and Lower Antelope, Canyon X is the least crowded. The former two are typically more crowded because they are the wider known sections of the canyon.
Tickets to visit Canyon X are cheaper than tickets for both the Upper and Lower canyon.
What is the best time to visit Antelope Canyon X?
Regardless of the time of the year you visit Canyon X, because of the depth of the walls, the best time of day to visit Canyon X is around mid-day. This is when the sun is directly overhead, so more light enters the slot and makes the red rocks glow.
Because of the lack of sun that reaches the canyon floor, if you visit in the winter it can be particularly chilly in the canyon. During the peak of summer, it can feel pleasant thanks to the shade.
Is Canyon X hard?
Canyon X isn't a particularly challenging trail, however, that will depend on your level of physical fitness and experience in hiking. The trail takes around 1 hour and 30 minutes to complete. You won't have to worry about navigation as this is a fully guided tour. The Canyon X trail visits 2 slot canyons.
The most challenging part of the trail is close to the start where you'll have a hill that descends into the canyon. This downhill hike lasts for about 40 yards and you'll have to go back up here on the way out. In recent years stairs have been built to help visitors down the hill.
Wrap-Up: Antelope Canyon X
Canyon X is a great choice of canyon to visit when you are in Page, Arizona. There are many benefits to choosing Canyon X over the other popular canyons. You will feel a lot less rushed and likely enjoy your time more.
Even though it's not quite as popular, it's still just as beautiful as the other canyons in the area. We hope this article helps you plan your trip and you have a wonderful time checking out all the amazing things the Southwest has to offer!