Antelope Canyon in Winter: Everything You Need to Know (2023)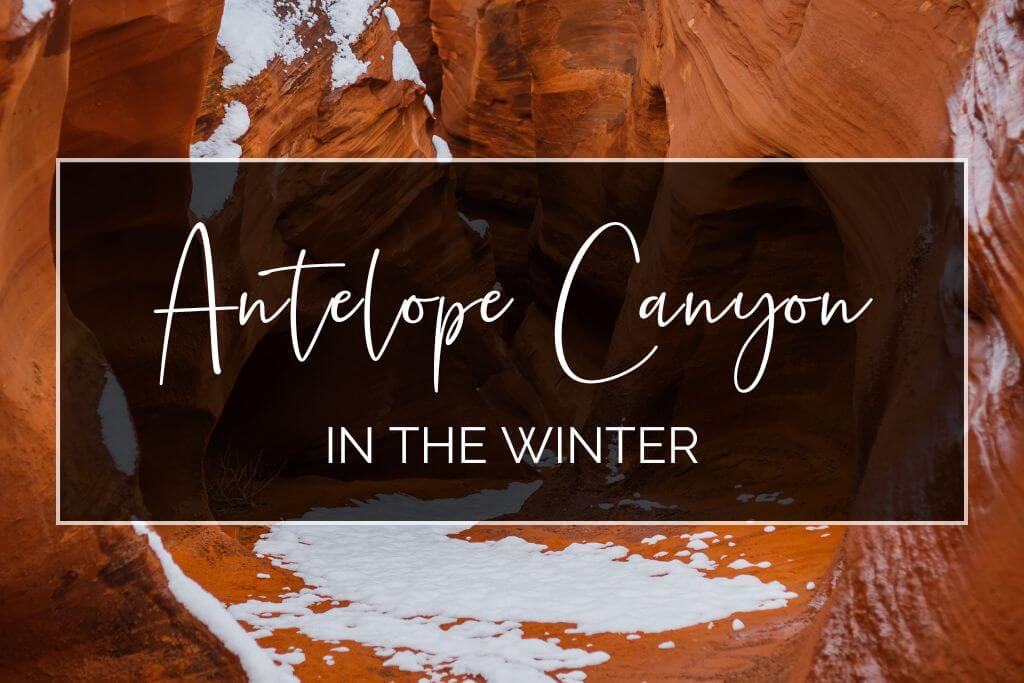 Looking to visit Antelope Canyon in winter? You've come to the right place!
Antelope Canyon is by far one of our favorite places we have ever been to and visiting in the winter is one of our best-kept secrets.
Well, I guess you know now – so it's not so much a secret anymore!
But truly, if you want to visit Antelope Canyon but want to avoid the crowds, visit in the winter months!
In this article, we're going to tell you everything you need to know about visiting Antelope Canyon in the winter. You'll learn what the weather is like, if it snows in Antelope Canyon, what you should wear, the best tours to go on and SO much more.
You ready? Let's dive right in!
Our Top 3 Tours: Antelope Canyon in the Winter
⭐️⭐️⭐️⭐️⭐️
✔️ Visit the most picturesque section of the canyon
✔️ See the famous light beams
Visiting Antelope Canyon in Winter
As one of the most popular places to visit in the Southwestern United States, Antelope Canyon is on many people's bucket lists.
During your visit, you'll be able to walk through one of the most stunning Arizona slot canyons in the world and admire the walls that tower over 100 feet above you.
For safety and to protect the canyon, the only way that you can see it is by booking a guided tour. 
The tours will allow you to see Antelope Canyon, as well as learn the history of the Page, Arizona region and learn how both Upper and Lower Antelope Canyon formed thousands of years ago.

Visiting Antelope Canyon during winter is particularly special, because you'll get to enjoy the canyon on a smaller tour, and you may even have the chance to see it dusted in snow.
Keep reading for some pros and cons of taking an Antelope Canyon tour in winter.
Pros of Visiting Antelope Canyon in the Winter:
Fewer Crowds
One of the worst parts of visiting popular attractions is the crowds. Antelope Canyon has its fair share of crowds, especially during peak season.
If you aren't a fan of large groups of people but still want to experience this incredible place, then visiting during winter is your best bet!
Between the months of November and February, crowds are way down and you're likely to have a smaller tour group. This is especially true in January after all the families traveling for the holidays have returned home.
Fewer crowds means more time in the canyon by yourself, fewer people in your way, and a quieter tour.
Cooler Weather
The Antelope Canyon winter weather is actually quite enjoyable when compared to the summer months.
Summer in Arizona brings scorching heat, but during the winter, temperatures drop and it's much more bearable. The Antelope Canyon winter temperatures range from around 29°F to 56°F.
This can be quite chilly for some people, but if you wear warm clothes, you can typically stay pretty warm, and many people prefer it over the summer heat.
Chance of Seeing Snow
Although rare, snow does occasionally fall during the winter at Antelope Canyon. When it does happen, you'll get to experience a magical sight.
The contrast of the white snow against the bright orange rock formations is amazing and is something that most people aren't able to experience during their visit.
Photographing Antelope Canyon in winter may be something that interests photographers even more than the average traveler!
Avoid Monsoon Season
Another plus of visiting Antelope Canyon in the winter is that you'll be able to avoid monsoon season, which runs from June through October.
Monsoons can lead to flash floods, which run through the canyons in the Southwest and can be highly dangerous if you're in them at the time.
Monsoon season is when the canyon is most likely to close since people cannot tour it when there is a flash flood.
Cons of Visiting Antelope Canyon in the Winter:
Unlikely to See the Light Beams
One of the reasons that Antelope Canyon has become so famous is the light beams that can be seen peeking through the slot canyon in summer.
The peak time to see this amazing natural phenomenon is between May and October, so during winter, you won't have the chance to see them.
But this doesn't mean that you won't enjoy the canyon, because even just seeing the swirling and towering red rock is incredible!
Colder Weather
If you prefer the heat of Arizona and want to stay out of the cold, then you may not want to plan an Antelope Canyon winter visit.
Although the temperatures aren't terribly cold, with average lows around 30°F, this can still be quite cold, especially if you aren't used to harsh winters.
To still enjoy the canyon with fewer crowds and in winter, plan a visit in either early November or late February, which are the start and end of winter.
These times have comfortable temperatures, and you'll still get to enjoy the perks of winter.
Is Antelope Canyon Open in the Winter?
If you're wondering, "Can you go to Antelope Canyon in the winter? The answer is yes!
Antelope Canyon's winter hours are about the same year-round. The canyon is open and accessible during the winter months, and you can most definitely visit it during the cold season!
Tours run 7 days a week throughout the entire year, and typically only close with bad weather.
If you're able to brave the colder temperatures, you'll be able to enjoy a less crowded and unique experience at this popular natural attraction.
Is Antelope Canyon Worth it in the Winter?
Because of its natural beauty and unique landscape, a visit to Antelope Canyon is worth it any time of year. But, whether or not your visit should happen in winter will depend on a few things.
Many people visit the canyon in search of the stunning and famous light beams. If you're hoping to enjoy these light beams during your visit, you'll want to understand when you can and can't see them.
Unfortunately, if you're planning a visit to Antelope Canyon and Page, AZ in winter, you're unlikely to see the light beams, since it won't be the right conditions.
The light beams are best seen in Upper Antelope Canyon between the months of May and October. To occur, they require the sky to be clear, the sun to be bright, and for it to be peak sunlight, between 11 am and 1:30 pm.
However, Antelope Canyon is still worth it in winter, since you'll have the chance to enjoy it when it's less crowded and when temperatures are cooler than they are in summer. 
Plus, when covered with snow, Antelope Canyon becomes a rare sight that most people won't ever get to experience!
If you don't mind missing the light beams, winter might be the ideal time for you to visit!
Antelope Canyon Winter Weather & Average Temperatures
If you're looking to visit Antelope Canyon in winter, you might be wondering which is the best month to visit.
Below, we'll discuss what kind of weather to expect during each month of winter to help you decide which best suits you.
November:
The start of winter in Antelope Canyon in Arizona is around November. This is when temperatures start to drop and the crowds begin to diminish.
You'll find that temperatures range from around 37°F to 56°F, so still fairly comfortable, compared to the hot weather in the summer.
With fewer crowds, minimal rain, and cooler temperatures, November is a great time to plan an Antelope Canyon winter tour.
December:
While there are still fewer crowds than in the summer months, December starts to bring in a few more tourists. Specifically around the holidays, you'll start to see tours book up quickly.
Temperatures are chilly, averaging around 29°F to 44°F, and the chance of seeing snow is more likely.
Visiting Antelope Canyon during winter, specifically in December, is a great idea, just be sure to book well in advance.
January:
If you don't mind the cold and want to escape the crowds, January will be the best time for you to plan your Antelope Canyon winter visit. Although, don't expect to see any of the popular light beams.
January is the coldest month of the year, with average temperatures floating between 28°F and 43°F. 
It still rarely rains or snows, but you might see it more often in January. If it does snow, you'll have a pretty amazing sight of the canyon dusted in white.
There also tends to be fewer crowds in January, since it is the off-season and the holidays are now finished. So if tours are booked during other times of the year, try January!
February:
Winter is slowly transitioning into spring once February comes around. You can still expect chilly temperatures, but it does start to warm up as the month goes on.
Temperatures range from 32°F to 49°F, and the chance of rain is low.
There are still few crowds in February, but you still won't see any light beams, since they peak between March and October.
Does it Snow in Antelope Canyon?
It doesn't snow very often in Antelope Canyon, so it's not something that you'll typically have to worry about.
The canyon only gets a few inches of snow per year, and most of it falls between the months of December and January.
However, there are a few days a year that the canyon does get snow, and this could cause a closure. So before visiting, be sure to check the weather reports to make sure that you won't need to reschedule your tour.
If it does happen to snow during your visit and you're able to go ahead with your tour, you'll get to have a beautiful and unique experience. The white snow creates a stunning contrast with the bright orange canyon.
Which Canyon Should You Visit in the Winter?
Upper Antelope Canyon in Winter
As the most popular of the hiking trails around Antelope Canyon, Upper Antelope Canyon is likely what you've seen in pictures that has drawn you to visit. This is also where you'll find the light beams that make the canyon famous.
It's easier to walk through since it's wider at the bottom, and it feels less crowded when there are dozens of people in the canyon. It also feels more photogenic than the Lower Canyon does.
Visiting Upper Antelope Canyon in winter is great because you'll get to experience the popular attraction with fewer crowds. But, with a winter visit, you won't get to see those magical light beams.
Lower Antelope Canyon in Winter
Another option is to visit Lower Antelope Canyon in winter, which provides a bit of a different experience.
Because of the narrow walkways, Lower Antelope Canyon often is seen as the more 'fun' option of the two. As you explore, you'll need to squeeze through the canyon walls and climb ladders.
Because of the geography of Lower Antelope Canyon, the light beams aren't visible during any season. So if you're bummed about missing them in the Upper Canyon, plan a visit into the lower one. You won't be missing out!
The Lower Canyon also isn't as busy as the Upper, so you may have a better chance at booking a tour last minute or exploring it without crowds surrounding you.
Antelope Canyon X in Winter
Another unique option for your visit is to take a tour of Antelope Canyon X. This once-hidden slot canyon has become more popular in recent years, but is still less crowded than Upper and Lower.
If you plan a trip to Antelope Canyon X in winter, you'll really get to enjoy a more secluded and quiet visit, since it's in the off-season and it's already a lesser visited part of the canyon.
Antelope X is also much cheaper than the other two, and you'll get to experience what has been overshadowed by the other popular tourist attractions nearby.
The Best Antelope Canyon Tours for Winter
Since you can't visit Antelope Canyon on your own, you'll need to book a tour. There are plenty of choices out there, but these are our top picks for the best tours of Antelope Canyon to get the most bang for your buck. 
Upper Antelope Canyon Tour – This is the tour we went on during our visit, and we loved getting to explore the towering sandstone walls and admiring the bright red rock formations.
Lower Antelope Canyon Tour – If you've chosen to visit Lower Antelope Canyon, this guided walking tour will showcase some of the best aspects of the canyon. We loved that this tour was less crowded and offered more chances for photo.
Antelope Canyon X Tour – This top-rated tour will take you through the lesser-visited Antelope Canyon X. Your guide will walk you through how it was formed and how it got its name, as well as help you enjoy the stunning views from within the deep canyon.
What to Pack When Visiting Antelope Canyon in Winter
Sturdy Shoes: With a sandy floor and narrow walls, having sturdy shoes is a must while hiking in the canyons.
Jacket: A visit to Antelope Canyon in winter can be cold, so be sure to wear a jacket. The temperatures are even colder in the canyon than they are outside.
Layers: Wear layers while in the canyon to stay warm, and take them off as needed.
Sun Protection: Even in winter, the sun in Arizona is strong, so stay protected with sunscreen, sunglasses, and a hat.
Scarf: When it's windy, a scarf can help keep the sand out of your face. It can also help to keep you warm.
Camera: One of the most important things to pack is a camera! You'll want to snap some Antelope Canyon in winter pictures!
Water: Staying hydrated while hiking is important, so be sure to bring a water bottle or water bladder.
Photographing Antelope Canyon in Winter
With fewer crowds, nice afternoon lighting, and the chance to see the canyon with a dusting of snow, winter is the perfect time to photograph this beautiful natural attraction.
It's important to note that you will likely be sharing the canyon with other people, no matter when you go, so you'll need to be prepared to set up the camera to avoid them.
You won't have a lot of time to change camera settings, so have everything that you need ready to go!
The best time of day to photograph the canyons is around midday when the sun lights up the canyon. Other times might lack sun and you'll have dark photos.
If you have your heart set on photographing it with snow, keep an eye on the weather forecast and try to book a last-minute tour when snow is forecasted. During winter, it's easier to find last-minute openings!
Where to Stay Near Antelope Canyon
The closest town to Antelope Canyon is Page, so you'll want to book a place to stay in Page for your travels to the canyons. Staying nearby makes it easy to travel to and from the tour meeting points on your tour day.
The Hyatt Place Lake Powell: Just a short 10-minute drive from Antelope Canyon, The Hyatt Place is a great place to stay. Featuring a seasonal outdoor pool, an in-house restaurant, and a breakfast bar, it has everything you'll need for a stay. Not to mention the amazing views that overlook the canyon, right from your room.
The Bear's Den B&B: This cozy bed and breakfast has friendly hosts who are ready to make your stay in Page spectacular. Start the day with a made-to-order breakfast, relax in the hot tub, and explore the amazing nature that is just outside of your door.
Hampton Inn & Suites Page-Lake Powell: Located only 10 minutes from the canyon, this comfortable hotel offers an indoor swimming pool, a hot tub, and free hot breakfast. Book a room with a patio to enjoy the views, or enjoy the outdoor fireplaces at the end of the day.
Wrap-Up: Visiting Antelope Canyon in the Winter
If you're excited about the idea of visiting Antelope Canyon during the winter months, you've got the right idea!
There are a ton of reasons why checking out these incredible slot canyons in the off-season is worth it. 
Fewer crowds, crisp temperatures, more tour availability, and cheaper prices in Page are all reasons why you might be drawn to visiting in a not-so-popular time.
We hope this article helped you plan your trip to Antelope Canyon in the winter!