Niangua River Float Trip: The Ultimate Guide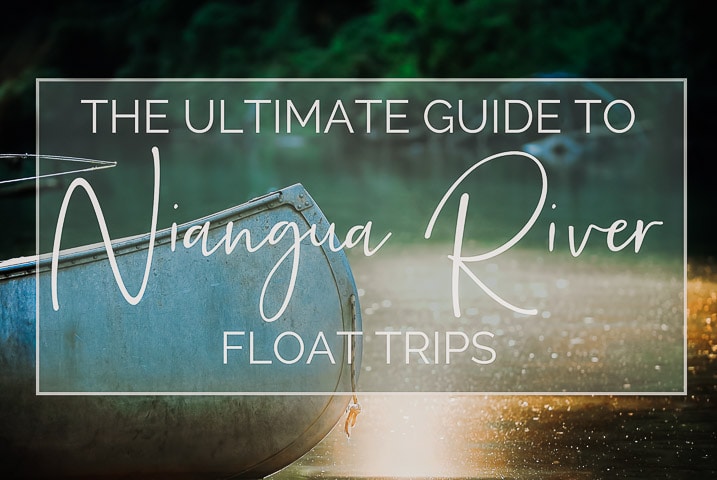 Looking to plan a Niangua River Missouri float trip?

If you're planning a Niangua River float trip in Missouri you've come to the right place. Being St. Louis locals, we've floated the Niangua River lots of times and it's one of our favorite rivers for a float trip!
This guide will tell you all about the Niangua River, the best place to float the Niangua River, Niangua River cabins, Niangua River camping, and the best places to rent from for your Niangua float trip. So keep reading to help plan one of your favorite Niangua float trips!
Keep reading for everything you need to know to plan your Niangua River float trip!
All About The Niangua River
You might be wondering – where is the Niangua River? The gorgeous Niangua River is located in Southcentral Missouri near Lebanon, Missouri. The Niangua River flows south to north and empties into the Osage arm of Lake of the Ozarks.
The Niangua River comes from the Osage Nation– a federally recognized Native American government. The meaning of Niangua is "many springs" and is referring to all the springs along the river that feed the crystal clear river.
An interesting fact about the Osage people is that they actually used to call the river Ne-hem-gar which means bear in their native language and it was because of the many black bears in the area at that time!
Most of the land around the Niangua River is not developed, making this area pristine natural beauty. The Niangua River is a huge fishing river and is stocked full of rainbow trout, brown trout, bass, catfish, and other species.
There are sections of the Niangua River that are super popular with people looking to go on a fun float trip but there are also sections of the river that are quiet, keep reading to find out about the different sections!
Find Out What Float Trip You Should Go On [Quiz]
Want to go on a float trip but don't know which river to choose? Take this free quiz to find the perfect river for you!
How To Get To The Niangua River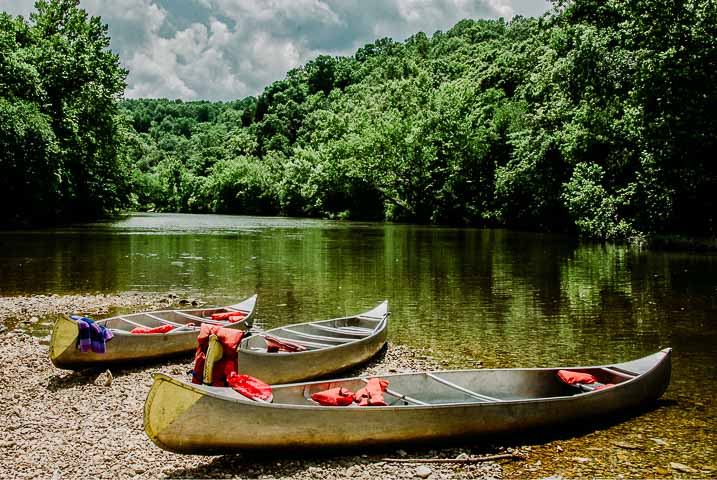 How to get to the Niangua River will depend on where you are coming from and what section of the river you are wanting to float. If you're coming from the east or St. Louis area, you will want to head to 44 West and get off on exit 129 which will take you to MO-64. Continue on 64 until you reach your chosen float trip location.
If you're coming from the west or the Kansas City area you will want to head south out of the city on I-49. Continue on until the road becomes MO-7. Take 7 around 160 miles until reaching 65 and take MO-65 S until reaching your chosen float trip location.

Niagara River floating trips are also super popular for people coming from Lebanon, MO. So if you're looking for a Lebanon MO float trip, the Niangua River is one of your best bets as it's only a 25-minute drive to the river.
Best Time Of Year To Float On The Niangua River
The best time of year to do Niangua River float trips is from mid-spring around April until mid-fall around September. Because the river is spring-fed, floating down the river is best in the summer when the outside temperature is super hot, so you can cool off in the water.
A Niangua river float trip can still be enjoyable even if the temperature isn't very hot. You just won't be able to swim or you have to be very brave to test out the water.
🛶 Looking for other float trips in Missouri? 🛶
Check out our guide to the Top 10 Best Float Trips in Missouri
What To Expect On Your Niangua River Missouri Float Trip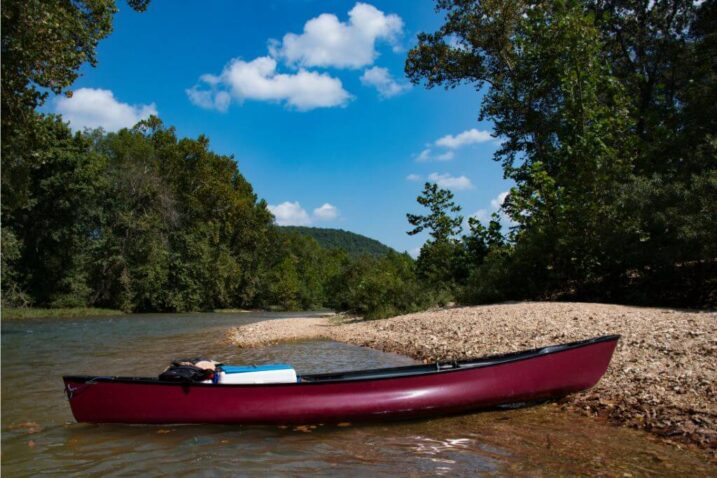 The Niangua River is one of the prettiest rivers to float on in Missouri. Because of this many people flock to the river in the summer months when the sun is out and the weather is warm.
If you plan to float on the Niangua River on the weekend (especially Saturday) be prepared for crowds – (think Mardi Gras on the river.)
Of course, you can avoid the party river goers by checking out the Niangua River on a weekday. The best floating on the Niangua River is the upper sections of the river just below Bennett Springs State Park.
This is where you'll find all the private campgrounds listed below. Because all the campgrounds are in one concentrated area of the river, that makes every Saturday during the summer a madhouse.
If you only have a Saturday to float down the Niangua River Missouri but really aren't interested in the crowds, don't worry! You can check with the campground/float trip business that you decide to go with which of their floats are less popular.
We would suggest checking out Mountain Creek Family Resort for a more family-friendly/quieter float trip on the weekends.
🛶 Looking for a bit of a quieter river? 🛶
Check out our guide to Current River Float Trips
If you're willing to drive even a bit further there is also the Elk River near Noel, Mo. It also gets super crowded at times like the Niangua, but it's a great easy river for first-timers and younger floaters.
Planning Your Niangua River Float Trip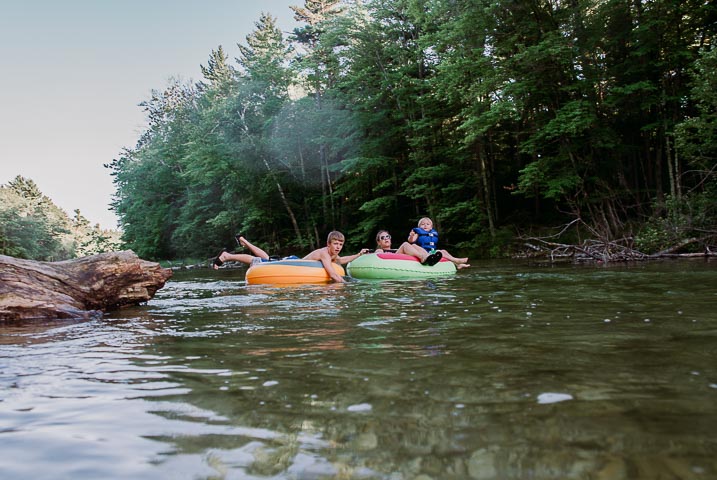 Your first step in planning a Niangua River float trip is to decide if you'd like to camp, stay in a cabin, or just visit for the day.
If you decide you want to camp, there are a lot of options for private campgrounds that provide floating equipment as well as transportation to and from the river.
If you want to be a little more comfortable and stay in a cabin, there are some Niangua River cabin rental options at some of the private campgrounds.
If you're looking for a more serene experience away from the crowded/rowdy campgrounds there are some great options for secluded cabins. You can then always rent float trip gear from a campground for your float trip.
Niangua River Float Trip Cabins
This luxurious cabin with private access to the Niangua River is one of the best options for Niangua River cabins.
It has 2 bedrooms with king-size beds and a loft with 4 beds so you can fit lots of people in this cabin. It has an open floor plan, a fireplace, and a screened-in porch. It also offers an outdoor fire pit for hanging out after the sun goes down.
The best part of this cabin is it has private access to the Niangua River AND has a gravel bar. If you've been around in Missouri you know that it's hard to find this!
This cozy cabin on the Niangua River is another great affordable option for a cabin right on the Niangua River. It has two bedrooms, a gorgeous wrap-around porch, AND a huge screen porch. The yard is gigantic and leads directly to the river!
If you're looking for one of the best cabins the Niangua River has to offer, look no further!
Niangua River Float Trip Campgrounds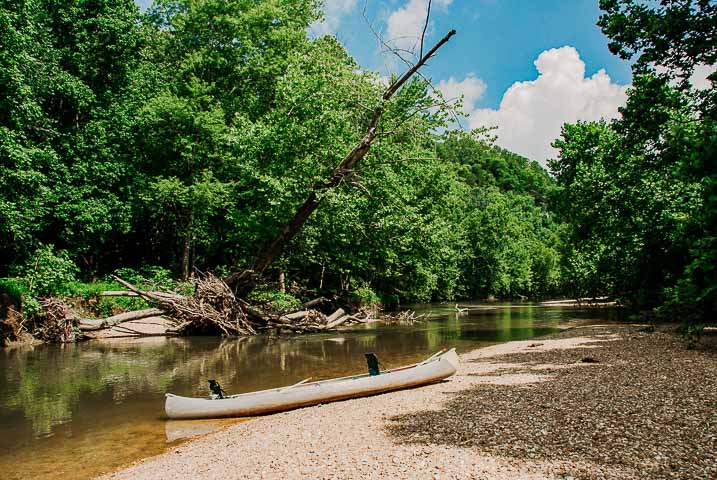 As mentioned before, there are a ton of options when it comes to a campground on the Niangua River. There are not many public campgrounds, but there are some options. There are a lot of options for private campgrounds. Both are listed below!
Public Campgrounds On The Niangua River
Bennett Springs State Park
If you're looking to go camping but would rather not stay at a private campground, Bennett Springs State Park is a gorgeous state park to visit. The state park has 5 campgrounds and offers a variety of camping options from tent camping sites to full hook-up RV sites.
Reservations are accepted 12 months in advance and can be made here. There is a boat launch at the state park but they do not rent out float trip equipment.
This is a perfect opportunity to bring your own kayak or float trip gear to go on a Bennet Springs float trip! If you don't have your own gear, you can find rentals right across the street at Riverfront Campground & Canoe or Hidden Valley Outfitters.
Bennett Springs State Park is also a fisherman's haven. The spring branch is stocked daily during the fishing season (March 1- October 31) and daily tags are required to fish on the spring branch. You can get tags at the park store.
The park store also offers free fly fishing lessons for anyone interested in picking up a new hobby. For more information about fishing at Bennett Springs check it out here.
Going on a Bennett Springs State Park float trip or fishing trip is high on our list and should be on yours, too!
Lead Mine Conservation Area
The Lead Mine Conservation area has 51 primitive campsites and 26 of the sites are able to accommodate trailers. All camping is first come first served.
The Lead Mine Conservation area has 600 acres of land and 3.5 miles of the Niangua River runs through the area.
It's very common to see deer, turkeys, and coyotes in this area. There are also numerous hiking trails throughout the area– but the trails are closed during the hunting season.
Unfortunately, this isn't a great place to go kayaking/canoeing due to the embankment not having a gravel area. Although, there is one boat ramp where you can put in at the conservation area & float from there.
🛶 Your own kayak is a great addition to any float trip 🛶
Check out our guide all about the best beginner & affordable kayaks!
Our Favorite Campground For A Niangua River Float Trip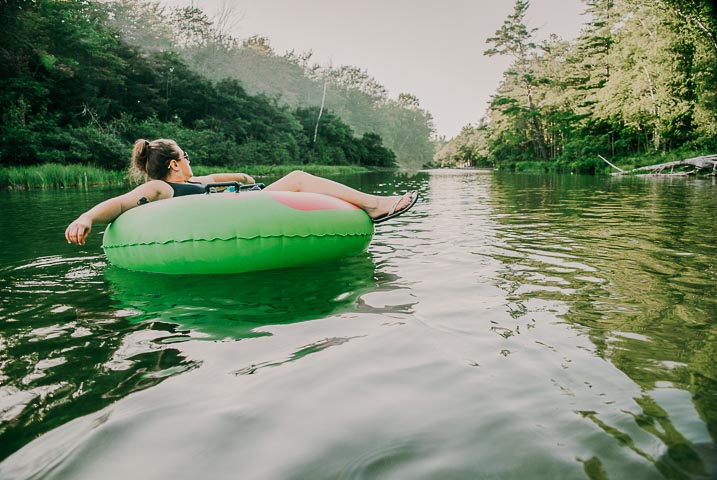 Riverfront Camp & Canoe
Riverfront Camp & Canoe is one of our favorite campgrounds and Niangua River Outfitters because most of the campsites are, as the name suggests, on the riverfront.
They have plenty of options for RV sites as well as primitive tent camping sites. They also have a variety of nice cabins to choose from that can accommodate up to 14 people.
They also offer lots of extras like a catering service for up to 30 people so you don't have to worry about cooking while you're camping. Their float Niangua River gear is affordable and their bathrooms are clean and have hot water.
Riverfront also offers an awesome guided all-inclusive overnight float trip adventure. This is great for people that would like a little adventure but doesn't have the gear or are worried about going alone.
Pro Tip: Something that we look for when choosing where to camp/float is if the float ends at the campground or not. We really like floating to the campground because after a long day of floating the last thing you want to do is get on a hot bus. When you float to the campground all you have to do is walk to your campsite or cabin at the end of the day.
Other Private Campgrounds On The Niangua River
Mountain Creek Family Resort & Canoes – This is our second choice for a campground/float trip place. They have an awesome slip-slide for kids (and adults let's be real.) Some sites are on the river, but not as many as Riverfront. This is a great place for a Niangua River canoe rental if that's what you're after.
NRO Canoe Rental & Campground – NRO float trips is one of the most popular places to float in the area. NRO float is another good option for a campground. They have cabin rentals, tent sites on the river, and even a nice restaurant on site!
Adventures Float Trips – This place used to only offer float trip rental gear. Their website says camping coming in 2022 and to check back.
Maggard Canoe & Campground – This is a smaller resort but offers camping on the Niangua River. They do not have a dump station or sewer hookups for RVs and can only accommodate smaller trailers.
Big Bear River Resort (formally known as One-Eyed Willy's) – This campground was once known as the best Niagua River float trips party campground. They are under new management now but they now offer breakfast on the weekends and the tent campsites are located down a steep dirt road but are right next to the water.
Hidden Valley Outfitters – Hidden Valley is another great option for a float trip/campground resort. They offer really nice campsites, food at their trading post, cabins, and float trip rental gear. They are known for being a family-friendly float trip resort.
Mother Nature's Riverfront Retreat – This campground/float trip business is on the complete opposite side of the river from the other Niangua River campgrounds listed above. This could mean that the river is less crowded in this area. Keep in mind on the weekends in the summer any place will be crowded though! If you're looking for a riverfront float trip, this is your place!
Just Outfitters For The Niangua River
Majestic Views Floats – If you aren't looking to camp and just want to rent float trip gear from an outfitter check out Majestic View Floats. They have affordable prices and even rent out paddleboards!
⛺ Love camping or know someone who loves camping? ⛺
Check out our post for some of the most unique camping gift ideas!
What To Bring For Your Niangua River Float Trip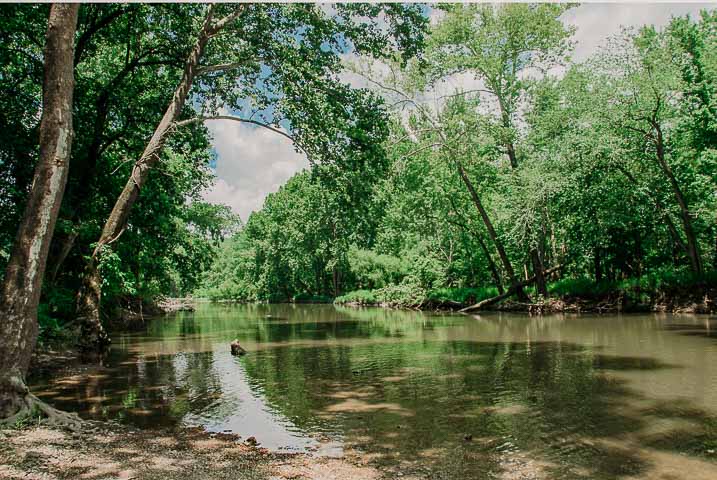 If you're camping on the Niangua River of course you're going to want to bring a tent that is roomy, comfortable, and has plenty of room for your family or friends.
We have put together a guide to choosing the best 6-person tent or if you are a smaller group check out our guide to the best 4-person tent!
One thing we would definitely recommend bringing on your Lebanon float trip is a collapsable canopy for either when you're hanging down by the water or at your campsite. After floating the Niangua River all day you are going to need some shade.
This is our favorite canopy and we bring it everywhere we go!
Another must-have for your Niangua River floating trip is a pair of great shoes for wearing in the river. Our favorites are our Chacos, but here is another water shoe we love and wear all the time!
Of course, don't forget a waterproof phone case– our #1 packing advice for any float trip! There are lots of other extras such as a waterproof speaker, a floating cooler, and cupholders that we recommend in our packing guide.
🛶 Time to get out of Missouri? 🛶
Check out our guide to the best float trips in Arkansas!