Truman Lake Missouri – A Guide to Visiting the Best Lake in Missouri
In this guide to Truman Lake, Missouri we're going to break down all the need-to-know things for a great trip to the lake! We'll cover not only the pros and cons between Truman Lake and Lake of the Ozarks. But also all the specifics of where to camp, where to rent, the marinas and more!
Unearth The Voyage contains affiliate links and is a member of the Amazon Services LLC Associates Program. If you make a purchase using one of these Amazon links, we may receive compensation at no extra cost to you. Read our disclaimer for more information. 
In this guide, we'll cover:
Truman Lake Vs Lake of the Ozarks
Truman Lake Camping
Airbnbs and Cabins at Truman Lake
Truman Lake Marinas
And Much More!
Keep reading for all the need not know information for planning the perfect trip to Truman Lake, Mo!
Goin' To Harry Truman Lake This Weekend!
Truman Lake is a great place in Missouri to spend a weekend getaway. There is just something about the summer that screams "Lake!" for so many people, myself included!
You can see yourself now, sitting on the boat or floating around in a tube. A drink in your hand and some sunglasses on. Maybe cruising around on a jet ski or tearing it up on a wakeboard!
Really any of it sounds a whole lot better than stuck behind a desk or breaking our backs at work like most of us find ourselves spending Monday through Friday.
Planning To Camp While Visiting Truman Lake? Make Sure You Have The Best Tent For Camping That Suits You And Your Family!
Truman Lake Vs Lake Of The Ozarks
Just about everyone in Missouri has been to Lake of the Ozarks at least once in our lives. But did you know that Lake of the Ozarks is actually connected to a much less developed and significantly quieter lake called Truman Lake Missouri?
Now don't get me wrong, I love a good party on the lake weekend as much as the next guy. However, I must admit I have been a little put off by Lake of the Ozarks the last few times I have been.
The lake of the Ozarks shoreline is almost nonexistent as it's littered with houses. The lake becomes difficult to use for water sports on popular weekends because of the huge number of boaters that show up. All of this leading to lake water that is becoming progressively more polluted and less desirable for swimming each year. And where is Truman Lake? Head just head about 50 miles upriver to Benton County and you're there!
You might find yourself thinking- how big is Truman Lake? Truman Lake is actually bigger than Lake of the Ozarks! Officially covering 86.87 square miles, Truman lake is about two square miles larger than Lake of the Ozarks.
State parks, wildlife sanctuaries, and various other wildlife management areas make up most of the area around Truman Lake MO. This means that the shoreline (for the most part) is nothing but trees and wildlife!
Truman Lake is manmade, a product of the Harry S. Truman Dam, which regulates the Truman lake water level. So it is far easier to plan trips to Harry S. Truman Lake further in advance since the Truman lake level fluctuates a lot less than a natural body of water would.
The fact that the lake is significantly less popular means that you are sure to be able to find a secluded little spot to swim in the water, go fishing or even try out those skis you have been telling yourself you could "Hop right on no problem".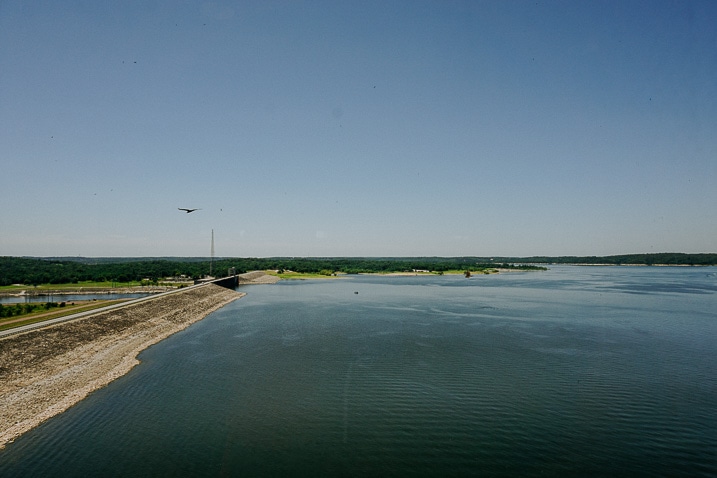 Truman Museum And Visitors Center
The Truman Dam Visitors Center is a must-see stop, whether you've never been to the area before or you're a seasoned Truman Lake veteran who's been cruising the lake since you were old enough to remember.
We have been to more than our fair share of visitor's centers all across the United States and I have to say the Truman Lake Dam is one of our favorites. It's a beautiful building that sits on top of a bluff and is a great example of how architecture can complement nature.
The views from the upper deck lookout to the east as well as the west so that visitors can see how the dam separates Truman Lake from Lake of the Ozarks. Which is great for visitors of all ages to get a feel for how the dam was created and the role that it plays in separating the two bodies of water.
There's a large 3D map of the area as soon as you walk in which is great for kids to get a little bit better view of the area. There are also regular rotating exhibits at the Visitors Center and of course tons of great information about the Dam itself.
Address – 29027 Visitor Center Rd, Warsaw, MO 65355
Hours – March 15 – Memorial Day Weekend 9am – 4pm / Memorial Day Weekend – October 31st 9am – 5pm
Website – Truman Dam and Visitors Center
Rentals And Cabins At Truman Lake
With Warsaw close by and miles of lakefront shoreline to choose from, Truman Lake has some of the best places to stay for a weekend at the lake! We've narrowed down just a few of our top picks best Truman Lake lodging.
Top Pick
Distance to the Lake – 2 miles
Sleeps – 10
Pet Friendly – No
This amazing little house is our top pick if you're planning a trip to Truman Lake in Missouri. It's close to Hwy 7 and so you get Truman Lake views but you're still only 5 minutes from downtown Warsaw, Mo.
The house sleeps 10 guests and is completely updated and modern so you will have all the comforts of home at this cute little lake house.
Large Groups
Distance to the Lake – Waterfront
Sleeps – 16
Pet Friendly – No
Truman Lake is the perfect place for big get-togethers and if you're going to have tons of friends and family you're going to need tons of space!
This HUGE Airbnb is just perfect for big groups. It sleeps 16 people and has an amazing deck overlooking the water. And of course what deck is complete without a pizza oven! And as if this place couldn't get any better is actually very reasonably priced!
Best View
Distance to the Lake – Waterfront Bluff
Sleeps – 6
Pet Friendly – No
The Harry S Truman Reservoir truly is a beautiful body of water. The sunsets are absolutely stunning and a trip to the lake really isn't complete without some amazing views of it. This VRBO lets you soak up every last minute of it.
It's located right on the water and up on a bluff so you can sit out on the porch each morning and enjoy your coffee with the best view around.
Truman Lake Camping
Truman Lake camping is one of the best ways to spend the summer. Whether it's tent camping or moving in the big rig Truman Lake campgrounds are hard to beat! There's plenty of options for places to stay, but we've broken it down to our top picks for the best places to camp near Truman Lake.
Sterett Creek
Sterett Creek is by far one of our favorite Truman Lake campgrounds! They have everything you could possibly ask for. They have 50 amp full hookups RV sites, tent sites, and everything in between!
All of their campsites are first come first served so show up early and grab a good spot! If you want to make the most of your weekends this summer they also have full-season site options so you can come enjoy the lake whenever you like.
They also have a shower house, laundry facilities, a Marina, and the Drunken Minnow Bar & Grill.
Camping
Full Hookup (50 amp) – $35.00
Electric and Water (30 amp) – $26.00
Electric Only (30 amp) – $22.00
Tent Site – $19.00
Website – Sterett Creek Campground – (660) 438-2280
Thibaut Point
You really just can't ask for a better park than Thibaut Point. It's quiet, clean, and incredibly well-maintained park. They have lots of amenities from a dump station to laundry and a shower house. They have 25 electric (30 amp) sites, 14 electric (50 amp) sites, and 5 primitive tent sites
They also have two large group sites, one with 19 (30 amp) sites and one that's all tent camping. It's also in a great fishing location! Crappie, Largemouth Bass, Flathead, and Blue Catfish are all common in this part of the lake.
Camping
Standard Nonelectric – $15
Standard Electric – $20
Group Tent Only Area Nonelectric – $50
Group Standard Electric – $100
Group Shelter Electric – $25
B Standard Electric – $25
Website – Thibaut Point Campground – (660) 428-2470
Truman Lake Marinas, Boat Launches And Rentals
Truman Lake marinas are here to help! Here's a shortlist of some of the best places to find Truman Lake boat ramps, fuel, ice, convenience stores, and more.
And if you don't own your own boat don't let that stop you! A Truman Lake boat rental can be a great way to still enjoy the lake. Several of the Marinas have options for renting everything from Pontoon Boats to Bass Boats and Jet Skis.
Truman State Park
The Truman State Park Marina is very popular. Truman State Park has 6 campgrounds and it's located conveniently in the middle of the reservoir. This means the marina is also a great stopping point for boaters out on the lake.
Boat Launch – Yes (Free)
Rentals – Pontoon, Fishing Boats, Slips
Amenities – Convenience Store, Fuel, Bait, Fishing Permits, and more
Storage Options – Boats
Website – Truman State Park Marina – (660) 438-2423
Sterett Creek
Sterett Creek is probably one of the best marinas on the east side of Truman Lake closer to the dam. They have a boat launch, a convenience store, bait and tackle, and of course The Drunken Minnow Bar & Grill. They have some of the most rental options around and so if you're looking for anything from a Pontoon boat to a kayak they have you covered!
Boat Launch – Yes ($5 Day-use fee)
Rentals – Pontoon, Bass Boat, Ski Boat, Jet Ski, Kayak, Canoe, Paddle, Board, Slips
Amenities – Convenience Store, Fuel, Bait & Tackle, Fish Cleaning Facilities, and more
Storage Options – RVs, Trailers, Boats
Website – Sterett Creek Marina – (660) 438-2280
Long Shoal
Long Shoal is a great option if you're a little further out from the dam. It's located on the West side of the Harry S Truman State Park peninsula close to Racket. They have a boat launch, fuel, bait & tackle and more! They also have boat repair services, so if the worst happens while you're out on the water they'll get you back out there ASAP!
Boat Launch – Yes
Rentals – Slips
Amenities – Boat Repair, Store, Guided Tours, Fuel, Bait & Tackle, and more
Website – Long Shoal Marina – (660) 438-2841
Bucksaw Resort & Marina
Bucksaw is about halfway to Brownington which makes it a great option if you're out on the water and pretty far west. They have boat slips for rent and of course fuel, bait, tackle, and a convenience store. You can also store your boat, RV or trailer there. They also have a fish cleaning station and guided tours.
Boat Launch – Yes
Rentals – Slips
Amenities – Guided Tours, restaurant, fuel, bait & Tackle, convenience store, and more
Storage – Boat, RV, Trailer
Website – Bucksaw Marina – (660) 477-3900
Osage Bluff
Osage Bluff is south of the Dam near the Osage Bluff Public Use Area, which makes it a great marina to stop at if you're cruising around the southern part of the lake. They have a boat launch, nightly and annual slip rentals, fuel bait, and more. They offer storage for boats as well as RVs and Trailers.
Boat Launch – Yes ($3 Day Use Fee)
Rentals – Slip
Amenities – Convenience store, Fuel, Bait & Tackle,
Storage – Boat, RV, Trailer
Website – Osage Bluff Marina – (660) 438-2939
Truman Lake Beaches
Truman Lake beaches are a great way to enjoy the lake without needing to have or rent a boat. Like anything else on the lake, there are tons of options for places to swim. We've narrowed it down to our top picks for Truman Lake swimming beaches!
Harry S Truman State Park Public Beach
The Truman State Park is one of our favorite places to swim. There are actually two swimming beaches in the park and while one is reserved for only the people camping at the park the other one is open to the public. We really love that there is a space for campers to relax and enjoy near the campsite, but also an option for people who simply want to come swim for the day!
When you arrive at the entrance of the park follow UU to the right towards the Truman State Park Marina and you'll find a nice big parking lot for the public beach area.
Other Beaches
Long Shoal Swimming Area
Shawnee Bend Recreation Area
Bucksaw Campground
*Some beaches may only be available to campers staying at the campground.
Places To Eat And Drink On Truman Lake
Since Warsaw Missouri is essentially right on the lake there are tons of great options for places to eat, drink and have a good time while you're at the lake. But we've narrowed it down to specifically the places you can reach from the lake so you can get there in your boat. Because there's just something more fun about taking a boat to a restaurant even if you could have driven there.
The Drunken Minnow
The Drunken Minnow is certainly a top choice when it comes to finding some food and drinks at Truman Lake. They're located in the Sterett Creek Marina and they serve a great variety of frozen drinks, bottled beer, burgers, and pizza! They also have a great selection of tasty bar food that changes around pretty regularly.
Long Shoal Marina Restaurant
The Long Shoal Marina Restaurant is a great option if you find yourself a bit further west when the hunger sets in. They serve breakfast, lunch AND dinner and have a pretty good selection of rotating specials. We also really like eating at the Long Shoal Marina Restaurant because they always have plenty of slips available that are conveniently located right in front of the restaurant. If you're done with the lake for the day and don't really feel like cooking back home, stop by Long Shoal and relax for a while.
If you're looking for a little something different then try lake Truman Mo next time you head out for the weekend. You might just find yourself with a new favorite spot! We really believe it's one of the best lakes in Missouri!
---
You May Also Like:
---
Not Done Planning Your Truman Lake Trip?
Save This To Pinterest For Later!